January 31, 2009 --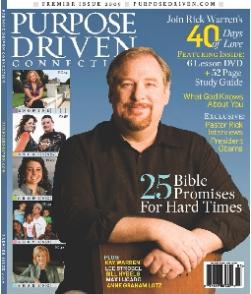 Weekend National News Note:
Purpose Driven News — Dr. Rick Warren's Purpose Driven Connection (PDC), a comprehensive bundled suite of personal growth tools, resources and experiences, launches this week with the release of the premier issue of the "Purpose Driven Connection" quarterly magazine. Included inside each issue is a small group discussion guide with a DVD offering Warren's teaching on spiritual growth, and is the first of a dozen multimedia resources to be introduced in 2009 designed to provide personal spiritual development and support.
"With the collapse of our economy, the tools, resources and experiences we've bundled into the Purpose Driven Connection are arriving at the exact moment when Americans need them most," Warren said. "The hollow hope of materialism has left us disappointed, empty and worried, and the economic collapse has created a hunger for a deeper spiritual connection to God and to each other.
Read the full article and discuss it »