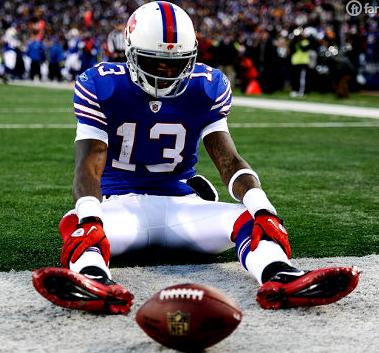 [5]Buffalo Bills receiver Stevie Johnson gets attention for seemingly blaming God for critical failed catch during football game
By Guest Opinion,
Oregon
Buffalo Bills receiver, Steve Johnson, dropped a critical catch during this weekend's game and made headlines with his remarks which seemed to indicate that he blamed God.   Johnson's brief remarks was all that was needed  to getting the headlines rolling such as; "Receiver Blames Dropped Pass on God", "God Took The Points Against The Buffalo Bills" and "Bills Receiver Blames God For His Terrible Hands".   It was painful drop made worse because they almost scored a victory against one of the best teams in the NFL after losing 80% of their own games.  Below are his comments he posted on his Twitter website.  (Please noet Twitter limits posts to 150 words so spelling is purposely produced to make best use of space.)
I PRAISE YOU 24/7!!!!!! AND THIS HOW YOU DO ME!!!!! YOU EXPECT ME TO LEARN FROM THIS??? HOW???!!! ILL NEVER FORGET THIS!! EVER!!! THX THO…
Later he remarked on Twitter….
And No I Did Not Blame God People! Seriously??!? CMon! I Simply Cried Out And Asked Why? Jus Like yal did wen sumthin went wrong n ur life!
Another remark…
Spoke To Friends Fam Teammates and Most Importantly I Spoke With My Wife. I Honestly Believe Evrything Happens For A Reason! Everything!
The problem for Stevie is that his honest frustrations are watched by many leaving him little room to express onesself in points of deep pain.  Johnson's phrase "I PRAISE YOU 24/7!!!!!! AND THIS HOW YOU DO ME!!!!!" comes right of out the Biblical book of Job where soulful questions abound.   It also comes out of human nature that has a real difficult time processing why bad things happen to good people.
What would God say?
We could be crafty and say that God would say to Stevie Johnson, "You dropped four other passes during the game, maybe it is not Me?"  Such statement sounds too human.   The best response that God might say in my personal opinion is what the Apostle Paul said when he endured great loss;
"Therefore, in order to keep me from becoming conceited, I was given a thorn in my flesh, a messenger of Satan, to torment me.  Three times I pleaded with the Lord to take it away from me.  But he said to me, "My grace is sufficient for you, for my power is made perfect in weakness." Therefore I will boast all the more gladly about my weaknesses, so that Christ's power may rest on me.   That is why, for Christ's sake, I delight in weaknesses, in insults, in hardships, in persecutions, in difficulties. For when I am weak, then I am strong."
2 Corinthians 7-10
While Stevie Johnson vented his feelings, another football player Maurice Clarett of the United Football League spoke this month on how God has impacted his sports life.  Clarett says he would gladly spend another year with the United Football League's Omaha Nighthawks if they want him back. He feels lucky to have played anywhere and been given a chance to rebuild his life after being incarcerated for 3½ years.   Clarett said "In January I was in prison, and now I've completed a professional football season.  I would absolutely say I could never ever have thought of being at this place. It's a blessing from God, and I take it that way."   If you look at Johnson's most recent Twitter remarks, you can see how we begins to sound more like the graceful Maurice Clarret than the image the headlines have made him out to be.  For this, we can be thankful to God and Stevie Johnson for this life lesson moment.