July 23, 2014 --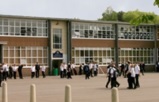 Group fights after-school Bible classes in Portland's schools
Faith News Note:
Guest opinion.
Protect Portland Children is organizing a campaign to stop after-school Bible classes from meeting in Portland public schools. The Bible classes, called Good News Clubs, are sponsored by Child Evangelism Fellowship. In partnership with 30 Portland churches, the CEF is working to expand into the Portland area schools this fall.
Robert Aughenbaugh, a co-founder of Protect Portland Children, is hoping to persuade parents not to allow their children to participate. He particularly objects to the CEF's teaching that all people are sinners, an idea he thinks is inappropriate to teach children because it makes them feel fear and shame.

Print This Post
Email This Post