July 28, 2014 --
By The Center for Environmental Law & Policy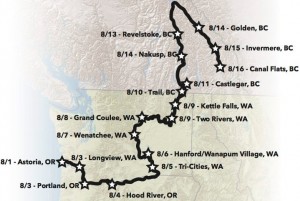 On 16 consecutive days in August, prayer vigils will be held on the banks of the Columbia River.
These will be 1-2hr events with safe river access (preferably a park or natural area) with adequate parking for all participants. Local religious leaders and indigenous people from all faiths will be invited to share a prayer for the River.
The prayer vigil comes at an important time when both President Obama and Prime Minister Harper are considering proposals to modernize the Columbia River Treaty to restore the river to health and return salmon to ancestral spawning waters. Each event should promote the vigil as an opportunity to pray, tell stories, play music and project positive energy towards the Columbia River. (A salmon lunch/dinner must be provided at each vigil).

Print This Post
Email This Post