May 29, 2014 --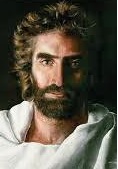 Summary: The image of Jesus painted by the "young Lithuanian girl" in the film 'Heaven is for Real' has sparked major media attention. Now revealed, is the girl's name, the name of her artwork and the heavenly connection she shares with Colton, the main character in the film.
By Carol Corneliuson,
Released in April, the movie Heaven Is for Real, is based on the New York Times best-seller and follows the story of a 4-year-old boy named Colton Burpo. Colton claims to have visited heaven during a near death experience. He shares his story about heaven with his curious father Todd Burpo. With the portrayal and understanding through the child's innocence, Colton's family is not sure what to think of his story and his visit to heaven.
Throughout the film, Todd tries to have Colton identify Jesus through a varying number of images and photos he has on hand, but without any success. It is not until the end of the film, that Colton identifies the face of Jesus on Todd Burpo's laptop. A character in the film referred to as the "young Lithuanian girl" paints the image of Jesus, but her name and the name of her Jesus painting is never revealed. Many who have seen the movie are left wondering who "the young Lithuanian girl" painting Jesus is and the connection between her, the movie and Colton.
Read the full article and discuss it »