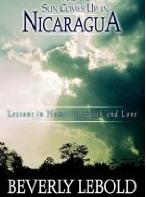 ENUMCLAW, Wash., Sept. 9 /Christian Newswire/ — An unexciting future loomed for 60-year-old Beverly Lebold, when she received an invitation to join a team going on a two-week work/ministry trip to Nicaragua. "What I really need is someone to do prison ministry," said the young college student who organized the venture. "Why would I want to go to Nicaragua?" responded Lebold, a 20-year-veteran of prison ministry, "I don't even speak Spanish."  In spite of the language barrier, she found herself packing bug spray, malaria pills, and a roll of toilet paper into a backpack and said 'adios' to her sheltered life in Salem, Oregon.
In her new book, "And the Sun Comes Up In Nicaragua", Lebold shares how God overcame the darkness of a dank prison, the darkness of a desperate people, and the darkness of dire poverty with His transforming light. "Nothing prepared me for Nicaragua. My outlook on the world, on poverty, on family, on faith, on mercy, on hope, on suffering, on humility, and on love was radically altered."
Much of Lebold's transformation was the result of meeting Wilber, a young Catholic college student who lives in a Managua barrio. Her friendship with Wilber–who spoke no English as he worked alongside the team –taught her that language is not a barrier to God's love.
"Prison bars are not a barrier to God's love, either. Nor are generational differences. I needed to step out of the comfortable and into the reality of life in a third-world country to learn these lessons," she confesses.
We'll never discover these priceless treasures unless we get out of the pew, out of our social circle, and into the real world where the hidden treasures live, she believes.
Lebold's book helps others–young or old, in college or in a rocking chair– to recognize the impact of touching a needy world, regardless of age, education, or skill.
"Wilber's deep faith was learned in a little Catholic Church in the barrio, a faith that never ceases to amaze me," Lebold says. "I want my generation to step out of their ease and comforts and discover the treasures hidden in the Wilbers of the world. It is then that life becomes exciting, challenging, and worth living–even as you enter into their pain."
To order visit www.winepressbooks.com or call 877-421-7323. For a review copy or to schedule an interview please contact Adam Cothes at 360-802-9758 or [email protected]. Contact: Adam Cothes, Publicist, WinePress Publishing Group, 360-802-9758, [email protected]