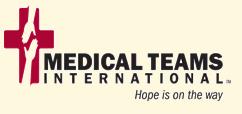 Medical Teams International: Last month's burst dam triggers the worst flooding in Bihar in 50 years

(PORTLAND, ORE.—Sept. 3, 2008)  Severe flooding has forced nearly 3 million people from their homes in India, including 500,000 still waiting to be rescued.  Medical Teams International is working with partners on the ground to provide medicines, clean water and nutrition packets to care for thousands of people a day.
"It's critical that we get help to these villages immediately," says Joe DiCarlo, director of emergency relief at Medical Teams International.  "Thousands of villagers—many of them vulnerable children and the elderly—are fleeing to makeshift camps.  Because these shelters are cramped and often without clean water or basic medical supplies, there is a huge risk of water born diseases and potential outbreaks of malaria and cholera."
The official death toll is 90 people, but workers on the ground estimate hundreds more have perished in the disaster.  The deadly floods began more than a week ago after heavy monsoon rains flooded the banks of the Kosi River, pouring water into Nepal's Sunsari District and 16 additional Indian districts.
Medical Teams International is partnering with Emmanuel Hospital Association, EFICOR and the Discipleship Center to help families displaced by the floods.
To donate to the India Flood Fund, please call 1-800-959-4325, give online at our secure Web site: www.medicalteams.org or mail gifts to PO Box 10, Portland, OR  97207.  Donations can also be made at any US Bank office.
Medical Teams International is a non-profit humanitarian relief and development agency that exists to demonstrate the love of Christ to people affected by disaster, conflict and poverty around the world. In its 29-year history, Medical Teams International has deployed more the 1,900 volunteer teams and shipped over $1.2 billion in antibiotics, surgical kits and lifesaving medicines to care for 35 million people in 100 countries.
-30-