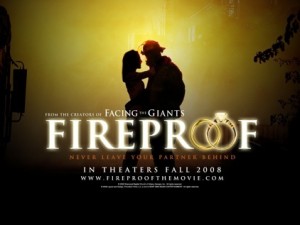 By Guest Opinion, Portland
Fireproof opened up in limited theaters this weekend in Oregon.   You know you have a spiritual film when you see both a church youth group and nuns waiting outside with tickets.  The creators of Facing the Giants are back with another Christian inspiration film called Fireproof, about a troubled marriage.  For Hollywood, marriages are put together instantly and broken as fast.  Marriage is simply not a cinematic topic.  Fireproof provides the opposite.   The film puts you inside a very difficult marriage where both partners are in error.   Instead of easy answers the audience gets served up two hours of more problems and complexities that enter into the relationship of the two strained couple.
The movie offers deep lessons.   The religious message weighs heavy, but is both fitting and earned due to the thoughtfulness and intelligence of the story.
The movie comes highly recommended for both being a truly moving story and a powerful teaching lesson on some of marriages most problematic issues.