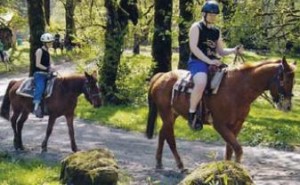 "Home on the Range" a Hopeful Possibility for Future Transitional Youth Kids
From Transitional Youth Ministries, Summer 2008 Newsletter
It has been a longtime dream to someday incorporate a working ranch setting into the mix of transitioning youth off the streets and into a stable environment. At last, we are closer than ever to making this prospect a reality.The Royal Ridges Retreat and Camp board of directors has voted to take part in a joint housing venture with Transitional Youth. Royal Ridges is located on nearly 400 acres above Battle Ground, Washington in the beautiful foothills of Mount Saint Helens. Transitional Youth and Royal Ridges will combine their efforts to provide structure and basic life skills for homeless youth who want to get off the streets. Many of these youth lack the personal self discipline and knowledge to work or go to school which are both requirements of living in a Transitional Youth home.
Furthermore, many of the youth are negatively impacted by the urban lifestyle and need to be away from the people and things that perpetuate their struggles. Those ready to turn their lives around will soon have the opportunity of a six to eight month stay in a Transitional Youth home with access to the facilities of Royal Ridges. With forty to sixty horses and miles of trails, buildings and vehicles to maintain, stalls to be mucked out, grounds to be cared for, life skill classes and countless other ways to grow and learn, "Home on the Range" will provide a myriad of life enriching opportunities.
To make this dream a reality, we knew we needed a home in close proximity to Royal Ridges and for the last three years we've had our eye on an adjacent property that was an ideal fit. It's a two story home of approximately 7,000 square feet with the upper half finished off as living space. It has four bedrooms, three baths, plus mother-in-law quarters. The lower level is insulated, taped and textured with a half bath, ready to be converted into a large bunkhouse
space with room left over for rainy day recreation and exercising. We had explored the availability of that property and found that the owner was receptive to a possible lease with an option to buy. At the beginning of this year we began more focused dialog with the owner. As fate had it, circumstances created a situation where during the first week of May the house went on the market. A Transitional Youth supporter has submitted an offer on the property and if the offer goes through, he will lease us this house at no charge with an option to purchase for the price they've paid.
We're very fortunate and grateful to everyone who believed that one day we'd have the chance to make the "Home on the Range" dream come true! We'll keep you posted with updates as this next phase of Transitional Youth unfolds.
— For more information or to help thsi ministry click here Transitional Youth Ministries,