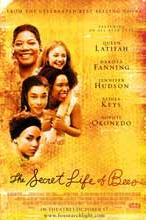 By Beaver-Believer, Portland
Two different spiritual movies debuted during the same weekend of October 17th. One was the small budget movie that was embraced by the faith community (Secret Life of Bees) and it out-performed the much celebrated film (W) which depicted people of faith in a negative light.
The Secret Life of Bees is a film that was promoted by three faith-based marketing companies; Motive Entertainment (Passion, Narnia), Grace Hill Media (Evan Almighty, Pursuit of Happyness) and Liquid Soul (The Gospel). Clergy and ministries were mailed teaching materials for the movie and given a website.

The other movie, Oliver Stone's "W", was about President George Bush. In W, evangelicals are featured as off-beat cartoonish characters at every turn. Bush's faith is represented as shallow, misguided and even fraudulent when Bush declares "I will never be out-Christianed again" after losing a campaign to a smooth talking politician. Bush's times of prayer among his presidential cabinet members are featured as incompetent gestures. Bush's spiritual breakthrough from alcoholism is depicted in a scene where he is rolling around the mud on a breezy autumn morning in a state of mental confusion.
The opening weekend box office results were determined by a narrow margin. The Secret Life of Bees came in at #3 at $10.52 million. The movie W debuted at #4 at $10.50 million — a $200,000 difference. The anti-Bush film came in behind Bees despite its double budget size and 10 times the free press run-up. It should also be noted that the teenage sex comedy, Sex Drive, opened during the same weekend, but it came in at #9 at paltry $3 million — a big flop.
The results for the second week showed that both movies show The Secret Life of Bees still leading W by a hair. Here are the results:
Secret Life of Bees, $19 Million (cost=$11M)
W, $18 Million, (cost $25M)
Sex Drive, $6 Million, (cost $19)