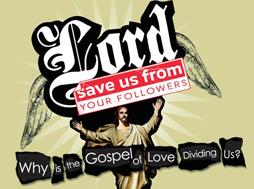 From Corban College,
Lord, Save Us From Your Followers" gets "followers" thinking. Corban welcomed Portland-area Film-Maker Dan Merchant to campus and his recently produced documentary, "Lord, Save Us From Your Followers" (Lightning Strikes Entertainment, LLC).  The Caulkins Fall Lectureship in combination with Chapel and ASB, sponsored this October event for students.  Merchant spoke during Chapel, spent most of the day with students, and discussed the movie with viewers after the evening showing.  
The film's inspiration followed Merchant and Executive Producer Jeff Martin's time with missionaries in Africa and subsequent return to America during the 2004 elections.  The dichotomy of priorities, it seemed, amongst Christ-followers of the two countries caused them to ask, "Why is the Gospel of Love dividing America?"  Christ-followers themselves, they began a journey to engage the nation—from well-known politicians to recognized Christian leaders to people on the street—in the dialog.*
Campus Pastor Kent Kersey hoped the film would "cause discussions."  He deemed the event successful, therefore, because many classrooms have been abuzz since Merchant's presentation, not to mention the informal conversations taking place.
Faculty Paul Johnson weighed student response, "I have heard both 'positive' and 'negative' reactions…. Some were favorably impressed with the emphasis on reaching out, entering into a dialogue and serving those who were presented as being critical of Christians and the message of the Gospel.  On the negative side, many feel that Dan Merchant presented and then critiqued an unfair and biased view of Christianity in America."
Senior Ben Pearson said the movie certainly "stimulated conversations," an especially helpful process for Christians who nap under a "safety blanket" (that is, a shared belief-system).  Junior Eli Conlee agreed:  "[Spiritual] growth can't reach its full potential without challenge."
In Kersey's evaluation, the message of the movie paralleled the maxim of St. Francis of Assisi, Preach the Gospel, if necessary use words.
"There is such a thing as the offense of the Gospel.  Jesus does assert that He is 'the way, the truth and the life,'—a claim that will make many people bristle.  I don't think the film made that clear," stated Dr. Jim Hills, whose class hosted Merchant.
Hills continued, "But we need to be sure that the offense lies in the Gospel, not with us.  I've known too many hostile, angry people who tried to disguise their own aggressive, boorish behavior by asserting, and probably believing, that they were simply 'contending for the faith.' Dan Merchant's emphasis on the kind of humility that results in careful listening and loving service is a point well taken."
Did Corban's reaction lead to loving action?  Pearson and some friends are looking into volunteering with homeless ministries.  Conlee was emboldened to have spiritual conversations with non-Christians and encouraged that, even if stumped by a faith question, it's 'okay' not to know everything.
And, perhaps, meaningful self-evaluation is the primary step toward eternal impact.  Sophomore Alysha Gates admitted, "It made me think about how I treat others."
*Merchant's movie addresses "hot button issues with candor, humor, and balance," according to www.lordsaveusthemovie.com.  On the website see snippets of the film as well as Merchant's interview with The Today Show.  Explore why "Bumpersticker Man," arrayed with contradictory controversial slogans, seemed to disarm the public and allow them to interact openly with religious questions.
###