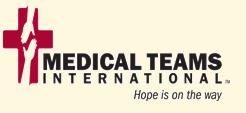 [Medical Teams International, Oregon]Get ready for The Great Adventure Dinner & Auction, one of Portland's most inspiring events! This unique, casual and uplifting evening features international décor, menu, auction offerings and stories that transport our guests to far-flung places creating memorable, life-changing impressions.  Our event will take place on November 1, 2008, at Medical Teams International's headquarters in Tigard, Oregon. Guests will experience the one-of-a-kind REAL. LIFE. Exhibit, a multi-sensory tour of our work, and take in the unique atmosphere of our distribution center where lifesaving medicines and supplies are sorted, packed and shipped around the world.
This year our chairs are Kathi McCoy and Janeen and Malcolm McAninch, all of whom have traveled extensively with Medical Teams during the last several years. Matt Zaffino, chief meteorologist at Portland's NBC television affiliate, KGW Northwest NewsChannel 8 will emcee the event and recording artist Julianne Johnson will perform with Portland favorite Michael Allen Harrison during the live auction.
We are in a wonderful position this year as we are already starting a waiting list for new guests. Read on to preview some of the amazing adventures that will be offered in our live auction.