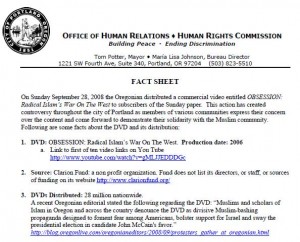 Release from Portland Office of Human Relations, Human Right Commission
FACT SHEET
On Sunday September 28, 2008 the Oregonian distributed a commercial video entitled OBSESSION: Radical Islam's War On The West to subscribers of the Sunday paper. This action has created controversy throughout the city of Portland as members of various communities express their concern over the content and come forward to demonstrate their solidarity with the Muslim community. Following are some facts about the DVD and its distribution:

1. DVD: OBSESSION: Radical Islam's War On The West. Production date: 2006
a.) Link to first of ten video links on You Tube https://www.youtube.com/watch?v=gMLJJEDDDGc
2. Source: Clarion Fund: a non profit organization. Fund does not list its directors, or staff, or sources of funding on its website https://www.clarionfund.org/
3. DVDs Distributed: 28 million nationwide.
A recent Oregonian editorial stated the following regarding the DVD: "Muslims and scholars of Islam in Oregon and across the country denounce the DVD as divisive Muslim-bashing propaganda designed to foment fear among Americans, bolster support for Israel and sway the presidential election in candidate John McCain's favor." https://blog.oregonlive.com/oregonianeditors/2008/09/protesters_gather_at_oregonian.html
4.Distribution was targeted to specific states.
a.) Newspaper companies received paid advertising to include the DVD in the daily and/or weekend editions of their respective papers.
b.) Free copies of the DVD were also distributed at the 2008 Democratic and Republican National Conventions.
Newspapers which distributed DVD:
Colorado – Boulder Daily Camera, Centennial Citizen, Colorado Springs Gazette, Denver Post, Fort Collins Coloradoan, Greeley Tribune
Iowa – Daily Nonpareil, Des Moines Register, Iowa City Press Citizen, Quad City Times, Sioux City Journal
Indiana – South Bend Tribune
Florida – Daily Commercial, Florida Times-Union, Ft. Lauderdale El Sentinel, Ft. Myers News Press, Miami Herald, Ocala Star Banner, Orlando Sun Sentinel, Palm Beach Post, Tampa Tribune, Tallahassee Democrat, St. Petersburg Times, South Florida Sun-Sentinel
Michigan – Detroit Free-Press, Flint Journal, Grand Rapids Press, Lansing State Journal
Missouri – Springfield News-Leader
Nevada – Las Vegas Review-Journal/Sun, Nevada Appeal, Reno Gazette-Journal
New Hampshire – Portsmouth Herald News, Union Leader
New Mexico – Clovis News Journal, Hobbs News-Sun, Rio Rancho Observer
Ohio – Canton Repository, Columbus Dispatch, Dayton Daily News, Middletown Journal, Morning Journal, Toledo Blade, Youngstown Vindicator
Oregon – The Oregonian
North Carolina – Charlotte Observer, Raleigh News & Observer
Pennsylvania – Bucks Co. Courier Times, Erie Times-News, Morning Call, Philadelphia Inquirer, Pittsburgh Post-Gazette, Pittsburgh Tribune-Review, Reading Eagle, The Patriot-News
Virginia – Sun-Gazette, Virginian-Pilot
Wisconsin – Green Bay Press-Gazette, Janesville Gazette, Journal Times, La Crosse Tribune, Milwaukee Journal Sentinel)
New York Times and Washington Post have also confirmed distributing publications, though they have not disclosed which of their markets were selected.
5. Newspapers which declined paid advertising:
a.) Michigan – Detroit Free Press
b.) Missouri – St. Louis Post-Dispatch Story
c.) North Carolina – Greensboro News & Record
i. https://www.huffingtonpost.com/greg-mitchell/one-newspaper-refuses-to_b_126662.html
d.) Ohio – Cincinnati Enquirer, Cleveland Plain Dealer
6. Resources on Islam: Become informed about Islam. Stay in touch with Portland's Office of Human Relations for future educational opportunities to learn more.
a.) Basics of Islam https://www.cair.com/AboutIslam/IslamBasics.aspx
b.) Islam: A Home of Tolerance Not Fanaticism https://www.isna.net/Resources/articles/general/Islam-A-Home-of-Tolerance-not-Fanaticism.aspx
8. Groups Organizing a Response:
a.) The Good Faith Coalition, Jim Hanna (503) 246-0765 or Sho Dozono, past member Human Relations Commission-Co-Chair Oregon League of Minority Voters (503) 223-6245
b.) Center for Intercultural Organizing, Kayse Jama, Executive Director, 503-287-4117
9. Who to contact if you experience or witness hate crimes in your area:
a. )Portland Police Bureau 503-823-3333
b.) Office of Human Relations / Human Rights Commission: 503-823-5510
c.) Coalition Against Hate Crimes, Randy Blazak 503-725-85