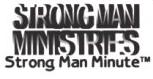 Wednesday, October 1, 2008–Open Door Communication Ministries of Portland, Oregon is pleased to announce the formal launch of the national public service Urban Radio Campaign today on the Web Site of its Strong Man Ministries unit, www.thestrongmanofGod.org.  The campaign is driven by the "Strong Man Minute" featuring the commentary of parent Ministry president and Strong Man Ministries director, Rev. Robert Kelley.  The ten upbeat and candid one minute commentaries target urban males as a first priority addressing such topics as the treatment of girls, women and wives as well as alcohol and drug abuse, manhood and issues of male responsibility from a biblical worldview. The vision is to so impact men they seek to learn more about becoming a strong man of God.
Local and national versions of the "Strong Man Minute" with web and telephone information are to be distributed to secular radio stations with formats that draw significant male listeners over the coming weeks by way of the internet and compact disc.  Interested Christian stations may contact Rev. Kelley by e-mail at [email protected] or telephone at (503) 287-7457 to request inclusion in the station distribution.  The campaign goal is to have the public service messages air on a minimum of 500 radio stations in urban markets across the nation.  Stations are being asked to commit to running the "Strong Man Minute" for one year.  Strong Man Ministries is seeking the partnership of sister broadcast ministries, churches, Christian businesses and foundations to help in the conduct or financial underwriting of the campaign.
The Urban Radio Campaign is part of the overall effort of Strong Man Ministries to restore men, families and America's communities by helping men become strong men of God in the image of Jesus Christ.  Already in progress are the Strong Man Institute offering courses such as The Strong Man Of God currently being conducted by Rev. Kelley at the Oregon State Penitentiary in Salem.  He also conducts the the Strong Man Academy informally with boys participating in a local football league.  A book and related educational resources based on The Strong Man Of God course are currently being prepared for release in the Spring of 2009.
The need for the Urban Radio Campaign is seen in the high incidence of male degradation of and domestic violence against women.  It is also seen in the extremely popular culture of Hip-Hop music that holds women in contempt and trivializes sex with them.  Male irresponsibility is of such major proportions, entertainment figures such as Bill Cosby and traditional Civil Rights groups like the Urban League are addressing the issue.  Relatively few persons and groups in the urban context are addressing all of the various issues of men that will restore them to their God designed place of leadership and responsibility in the family from a biblical worldview.  Strong Man Ministries and the Urban Radio Campaign seek to help fill this void.