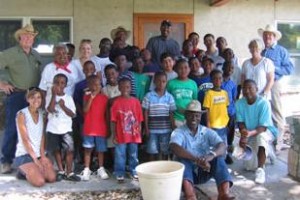 By Rick Johnson, Better Dads, Oregon
During our recent trip to Texas, my wife Suzanne and I visited a remarkable facility located in the urban, inner city area of Fort Worth. We were blessed to spend some time with Gary Randle and Noble Crawford the co-founders of H.O.P.E Farm. The acronym H.O.P.E. stands for Helping Other People Excel.
Both Randle and Crawford are former law enforcement officers who felt a calling to help young, fatherless, African-American boys become men. As they say, "All boys deserve a chance to become men." The "farm" consists of several buildings that were formerly drug houses for local gangs. Randle, an imposing figure at 6' 8" tall, is a former TCU college basketball player who believes that without positive male role models these boys are doomed to end up involved in drugs or in prison.
Started in 1989, the farm develops boys into leaders—men who stand, men who stay, and men who lead. During our visit 35 boys were registered for their program which trains boys in a variety of traits including Christian values, work ethic, manners, and other valuable life skills. They strive to give at-risk boys a chance to know Jesus Christ and develop life skills consistent with biblical truths. This long-term leadership development program teaches what it means to be a Godly man who leads by respect, trust, generosity and love.
The boys in the program generally enter the program between 5-7 years of age and continue through high school. Several of their graduates are now enrolled in college. Those who attend public school come every weekday after school and stay through dinner time. Those who attend a nearby Catholic private school come two days a week all day, and three times a week after school. The boys do chores, working alongside men as well as attend classes on a variety of subjects. Each night, all of the boys are given a healthy and generous dinner cooked by "Granny." As Randle says the boys are like wolves—they are constantly hungry and food plays a big part of the work they do. During meal times the boys are taught table manners and proper etiquette. Each meal also involves a debate of a controversial subject with some boys chosen to support one side of the issue and others chosen to support the opposing side. This teaches the boys the skills to discuss an emotional topic without resorting to guns or violence.
During our visit about 10 well groomed and well dressed boys from the ages of 5-10 years old arrived from school and were asked to come into Gary's office. Seeing visitors–without being told–they marched in single file and very politely introduced themselves to me one at a time by looking me in the eyes, shaking my hand, and saying, "Hello, pleased to meet you. My name is _____." They then took care to walk behind my chair so as not to disrespectfully walk in front of me, and introduced themselves to Suzanne in the same way. Afterwards they lined up to politely await a joyful hug and words of encouragement from Gary. All this was as natural and unrehearsed as a "normal" family–as it should because both Gary and Noble consider all these boys their sons. It was an unexpected and wonderful illustration of young boys learning important life skills that will help them succeed no matter what they choose to do in life.
The boys' single mothers are also required to be a part of the program and must pass specific requirements for the boys to enroll in the program.
We were truly blessed to see this program and meet these "real" men. If you'd like more information on HOPE Farm or would like to support this remarkable and life-changing ministry (HOPE Farm's funding all comes from individual donors, they receive no federal or state funding), call 817-926-9116, or go to their web site at www.hopefarminc.org. You will be blessed just to watch the video and see the lives of boys who probably had little hope changed before your eyes to one's who have a chance to succeed in life. You won't be sorry you did.
Visit Rick Johnson's blog
https://authorrickjohnson.blogspot.com/