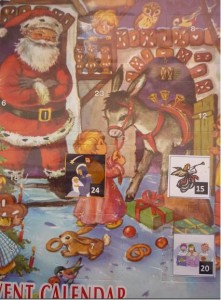 BY Beaver Believer, Portland
I have always loved Advent Calendars as a kid eating my way through the 24 days before Christmas Eve. The calendars I grew up always had a nativity scene or angels which has been the tradition for hundreds of years when it began in Germany. I went shopping for Advent Calendars for my nieces and could not find a single calendar among many that had any spiritual reference. In desperation, I ended up printing my own door decorations (see photo) and pasting them on the calendar in at least three places. Now I feel much better.
Advent is from the Latin word Adventus which means "coming". I suppose the great arrival of Santa Claus fits the definition of a great coming, but misses the spirit. What next? Frosty the Snowman sporting candy cane menorahs or reindeer Kwanzaa lightings?
I just wish that out of the five Advent Calendars at the store at least one would have been true to the original spirit of the Advent tradition. I think that would have made many customers like me very happy.