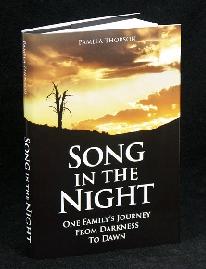 Injured Teen Declared 'Another Christopher Reeve,' Goes on to Launch Computer Animation Studio
In the summer of 1997, Kevin Thorson was a lively teenager, recent homeschool graduate, and budding musician. He planned on becoming a missionary like his older sister. Instead, in a single moment, he became one of the estimated 11,000 people who suffer a spinal cord injury each year in this country. Initially paralyzed from the neck down in a fall while on a teen missions' trip to Canada, Kevin was placed on life support and declared to be "another Christopher Reeve." The doctors gave virtually no hope for his recovery; one argued for the family to pull the plug.
Pamela Thorson announces the release of "Song in the Night" (hardcover, Luminary Media Group, 2008), the true account of the events that propelled one family into the bewildering world of disability. Pamela relates the fight to keep Kevin alive, the surprising medical interventions by God that earned Kevin the nickname "Miracle in the Making" by the local press, the subsequent struggles with faith that the family endured, and the gentle grace of God that taught them to trust Him again. Along the way, Kevin and his brothers taught themselves the basics of 3-d graphics, computer animation, and photography. In 2008 they launched their own studio, Dragonfly Core.
"Song in the Night" offers a fresh look at faith and suffering from a mother's perspective and gives the reader a frank, if painful, look into the effect that a life-threatening injury has on an entire family. It reveals an intimate glimpse into what it is like to live inside a broken body and spotlights the sacrifices made by millions of caregivers each day.
To order "Song in the Night," visit www.SongintheNight.net or www.amazon.com. To request a review copy or to schedule an interview, contact Pamela at (208)791-4141 or e-mail her at
[email protected].