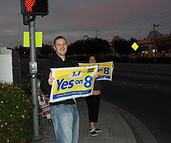 This week Californians passed Proposition 8 which put the definition of marriage into the state constitution.  The ACLU filed a lawsuit challenging the new Proposition 8 Amendment.   Defenders of the proposition cite the Oregon Court of Appeals case, Martinez v. Kulongoski, which involved a similiar measure passed by Oregonians and was upheld against a constitutional challenge. The full text of the press release has been provided for Oregon Faith Report readers below:
PRESS RELEASE BY PROTECT MARRIAGE.COM:
Statement by Andrew Pugno, General Counsel of ProtectMarriage.com – Yes on 8
SACRAMENTO, Calif., Nov. 5 /Christian Newswire/ — "The lawsuit filed today by the ACLU and Equality California seeking to invalidate the decision of California voters to enshrine traditional marriage in California's constitution is frivolous and regrettable. These same groups filed an identical case with the California Supreme Court months ago, which was summarily dismissed. We will vigorously defend the People's decision to enact Proposition 8.  "This is the second time that California voters have acted to define marriage as between a man and a woman. It is time that the opponents of traditional marriage respect the voters' decision.

"The ACLU/Equality California lawsuit is completely lacking in merit. It is as if their campaign just spent $40 million on a losing campaign opposing something they now say is a legal nullity. Their position is absurd, an insult to California voters and an attack on the initiative process itself.
"The right to amend California's Constitution is not granted to the People, it is reserved by the People. The Supreme Court has repeatedly acknowledged the reserved power of the People to use the initiative process to amend the Constitution. For example, when the Rose Bird Court struck down the death penalty as a violation of fundamental state constitutional rights, the People disagreed, and in the exercise of their sovereign power reversed that interpretation of their Constitution through the initiative-amendment process. Even a liberal jurist who vehemently disagreed with the People's decision on the death penalty, Justice Stanley Mosk, nevertheless acknowledged the People's authority to decide the issue through the initiative-amendment process.
"It should also be noted that the ACLU recently made this same "constitutional revision" claim in a nearly identical matter in Oregon and it was unanimously rejected. The claim was made under almost identical provisions of the Oregon State Constitution, against an almost identical voter constitutional amendment which read, '…only a marriage between one man and one woman shall be valid or legally recognized as a marriage.' The Court of Appeals of Oregon unanimously rejected the ACLU's 'revision' claim. (Martinez v. Kulongoski (May 21, 2008) — P.3d—-, 220 Or.App. 142, 2008 WL2120516).
"The coalition that has worked so hard for the past year to enact Proposition 8 will vigorously defend the People's decision against this unfortunate challenge by groups who, having lost in the court of public opinion, now turn to courts of law to pursue their agenda."