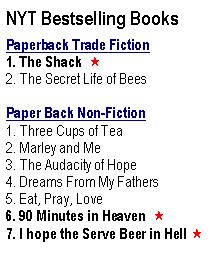 By Beaver Believer, Portland
Oregon author, William Young, continues to rank as the number one nonfiction paperback for the book The Shack which tells the story of a man who has a conversation with God, Jesus and the Holy Spirit. A local Christian bookstore said it has been their number one selling book since Christmas.
In non-fiction, the book 90 Minutes in Heaven, about a man's short visit to heaven after a car accident has been on the best seller's list for two years!
In a more humorous note, the book barely edges out "I hope they serve beer in hell" for the number sixth spot.
.