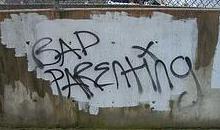 By Beaver Believer, Portland
I was watching a rated-R film and a scene came up where children were being killed with an axe. To my surprise I saw a woman get up and escort her two kids out of the theater. Those girls looked no older than six years old. Fifteen minutes later the woman came back with her kids! People gasped in the theater. It appeared that she just left to avoid the brutal scene. Needless to say, this film was not for kids. I wanted to yell something, not out of pompous bravado but out of concern for the kids and what they were being exposed to. Should one have said anything? Should one just walk out and complain? Should one just talk to the lady at the end of the show?
The film not a horror movie but based on a true story. The woman may have not have known what to expect, yet , it was still an R-rated film (roughly three times the age level of when kids should have been in there). What would you do?