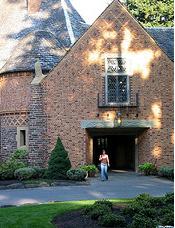 Lewis and Clark Graduate School of Education and Counseling — Advancing Knowledge Engaging our World Living Portland Lewis & Clark Graduate School of Education and Counseling is partnering with the Muslim Education Trust (MET), a nonprofit organization that promotes greater understanding of the Islamic community through education and outreach initiatives. The partnership will offer two scholarships to students in the Muslim community who wish to become licensed teachers, counselors, or education administrators.
Scott Fletcher, dean of Lewis & Clark Graduate of Education and Counseling, said the partnership with MET is important to the school's bonds with the Portland community and reflects its commitment to serving a diverse and multicultural society.

"Community engagement and a culturally rich education environment are central to our work in preparing teachers and counselors," Fletcher said. "The result of the partnership will be educators and counselors who are better prepared to meet the needs of the Muslim community and greater understanding between the Muslim and non-Muslim communities in Portland."
While the partnership has just been formalized, two students have already received scholarships: Sanaa Saifan, who is pursuing studies in Educational Leadership, and Amel Belguith, who is working on a graduate degree in School Counseling.
"Our efforts to help build enlightened communities is advanced through partnerships based on positive human relations," said MET Executive Director Wajdi Said.  "MET considers its cooperative arrangement with Lewis & Clark College an opportunity for both institutions to provide enhanced professional training for educators. Our professional staff and parent community consider it an honor to be partnered with Lewis & Clark, a nationally recognized leader in educational training."
Creating a global perspective and addressing cultural competency
The graduate school and its faculty have long invested in building cultural understanding and have integrated it into the education and counseling programs. Curriculum and courses routinely address cultural issues such as bi-lingual education, cultural sensitivities for effective mental health treatment, and counseling issues unique to the lesbian and gay community, for example.
Many faculty members do work, research, and organize projects in countries around the globe. They either take their students with them on their expeditions or bring their knowledge and experience back to classroom. For example, Zaher Wahab, professor of education, has been building education programs and schools in Afghanistan. Teresa McDowell, associate professor of counseling psychology, took a group of Lewis & Clark graduate students to India and another group to Egypt to explore the effects of cultural immersion on therapist multicultural competence and has been collaborating with a colleague at Menoufia University in Egypt.
Fletcher said this is another important more way of bringing cultural diversity into the classroom.
"We are eager to expand this partnership over the coming years," Fletcher said. "This is hopefully just the beginning of a long-lasting relationship that will lead to even greater opportunity for our students and faculty to reflect the richness of the local and global community we live and work."
###

About Lewis & Clark:
Lewis & Clark prepares students for lives of local and global engagement. Located in Portland, Oregon, the college educates approximately 2,000 undergraduate students in the liberal arts and sciences and 1,500 students in graduate and professional programs in education, counseling and law.