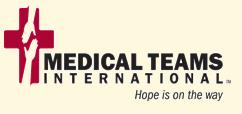 By Medical teams International,
(PORTLAND, ORE.—Dec. 5, 2008)   A leading evaluator of faith-based ministries has named Medical Teams International one of its top 30 "Shining Light" charities.  MinistryWatch.com compiles its annual list from nearly 500 of the largest nonprofit Christian organizations in the U.S., looking at financial transparency, fiscal efficiency, program effectiveness and clear identification as a Christian organization.
"Medical Teams International is truly one of the 'best of the best,'" says Rusty Leonard, founder of MinistryWatch.com.  "We are pleased to recognize Medical Teams International as a ministry that goes well beyond the minimum."
This is the fourth consecutive year that Medical Teams International has received the honor.
More than 96 percent of donations to Medical Teams International go to programs and services.  The Oregon-based humanitarian aid organization annually ships more than $110 million in donated medical supplies and mobilizes more than 2,600 volunteers to help poverty-stricken families here in the U.S. and around the world.
"This is an exceptional honor," says Bas Vanderzalm, president of Medical Teams International.  "Our compassionate volunteers and generous donors are the ones who have made this award possible.  We will continue to wisely use the resources entrusted to us."
To learn more about the work of Medical Teams International and its programs, visit www.medicalteams.org.
— Medical Teams International is a nonprofit humanitarian relief and development agency that exists to demonstrate the love of Christ to people affected by disaster, conflict and poverty around the world. In its 29-year history, Medical Teams International has deployed more the 1,900 volunteer teams and shipped $1.2 billion in antibiotics, surgical kits and lifesaving medicines to care for 35 million people in 100 countries.
-30-