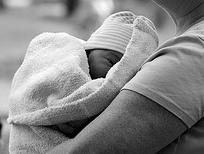 By Pastor Zach Bayer
Trinity Project Church, Milwaukie
In this season of my life, my wife and I are on a really great journey. As many of you know, we will be brought home baby Ezra from Ethiopia on the week of November 16, 2008.
This is going to be a huge adventure for our family. It is going to have huge implications on our life and our future. As of October 17th, Ezra now has our same last name—Bayer. This name is so much more than five letters. It is sort of a seal, an inheritance. Ezra has been stamped as my child; he is my adopted child.

As Ezra grows up, we are going to try and help him understand what it means to be adopted. The coolest thing about this is that he is no different than a biological child would be when it comes to his standing in my family. Both of the children would have equal access to Holly and me. Everything that is ours would be theirs equally. Neither child would have priority over the other. Simply by being my child they would have access to my "kingdom," so to speak. Although Holly and I didn't produce Ezra, he is and will always be our child. This is the same truth that we lay hold of children of God.
As God's adopted children, we have unlimited access to his kingdom. We get to come before the king whenever we want and all that he has, in essence, is ours too. We have been sealed with the promised Holy Spirit, for the glory of God. Through what Jesus has done, we are now adopted into God's family as his children.
This is the greatest news ever. We aren't illegitimate children; we are adopted, we have a new name, a name that lasts forever. We are now a part of the royal family and can place our hope in the fact that we have been adopted by God our father.
Over the last few weeks we have looked at identity and trusting in God's design. In the next few weeks we will look at what it means to place our own agendas down and rest in God's agenda. We will also look at what it means to put our hope in our new father.
This upcoming season is very exciting, but can also be stressful. I hope that we will be able to reflect on what God has done, rest in his presence now, and put our trust and hope in our future. As we come to the table of thanksgiving, let's praise the father who has given to us in abundance and draw nearer to the celebration of his most precious gift—the life of his Son Jesus.