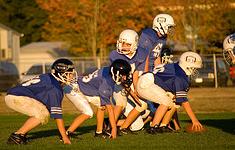 By Cameron Crabtree
NW Baptist Witness Newsletter
PORTLAND — Like many pastors, Robert Kelley, Jr., can easily fill his calendar with the activities that come with overseeing a church in a major urban center.  But the pastor of St. Mark Baptist Church in Portland looks at the city where the church is located and sees a host of needs beyond the congregation's facility.  To help make a difference, he has invested part of his life in mentoring youth and men, challenging them to build strong, positive character attributes.
One of the ways he tries to instill biblical values in those he works with is in serving each fall as a chaplain to two football teams sponsored by the Portland Police Activities League, an organizations that provides educational, recreational and athletic programs for youth of the Portland metropolitan area.
Typically he takes time out of ministry schedule to attend one of the weekly practices. The coaches give him a few minutes to inspire the boys with Bible stories and biblical illustrations that counter the media messages most of them see and hear on a regular basis.
At a recent practice before the two teams played in the championship game, he used the story of David to urge the boys to live with the "heart of a champion."  He is careful not to try and create the impressions that God is on their side in terms of the win-loss column. Rather, he focuses on the building the kind of character that allows them to be successful in areas of life that matter more than sporting events.
In addition, the church sponsors a banquet after the season is over to recognize the service provided by those involved in the program.
Kelley takes further steps to highlight the importance of having positive role models in society.
He drew on his educational background in radio and television broadcasting — both at San Jose State University in California and Southwestern Baptist Theological Seminary in Texas — to produce a series of public service announcements for radio stations that champion a biblical worldview on issues of importance to urban males in major cities.
The 60-second commentaries, titled "A Strong Man Minute," cover a range of topics: Alcohol and drugs, the importance of fatherhood, treating females with respect, being a responsible male in society, being a loving husband, responsibility in work, the importance of education, valuing family and home, self-respect and pride.
The idea of teaching men the importance of being a "strong man" is something for which Kelley has invested considerable time and energy. Kelley launched "Strong Man Ministries" three years ago as an outreach to black American males. The organization emerged from his "From Slavery to Victory Education Project," an effort he has used to proclaim the gospel message and present a biblical worldview of the black American experience to help spiritually.
Kelley defines a "strong man" as someone who accepts the roles God designs, obeys God until death, relies on God for everything and trusts God for vindication.
"Strong Man Ministries has been raised up of God to address both the spiritual and transitory life needs of not only black, but also males from every ethnicity," Kelley wrote. "We believe the acceptance of the gospel and God's design for men in the image of Jesus Christ coupled with tangible assistance for those in need, will restore the willing. When men are restored, they restore their families and communities to God's glory."
### – For more information about Kelley's outreach to men, contact him at 503.287.7457 or go to TheStrongManOfGod.org.