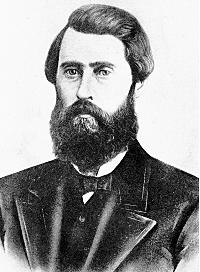 By Tom Fuller,
author of Oregon at Work: 1859-2009
and Images of America: Salem
Jason Lee was probably pretty disappointed with himself after his mission to the Oregon Country failed. Jason answered the call to bring Christianity to Oregon after some members of the Flathead (Nez Perce) tribe came east asking about the white man's "book of heaven." Lee came to an area north of the present day city of Salem probably because the native Kalapuya had somewhat flattened heads, but they were not the Nez Perce. Lee set up his mission in 1834 but it closed in 1844 after accusations that Lee was focusing more on "colonization" than missionary work. Not many Kalapuya had converted, but that may have been more due to disease wiping out the tribe than the efforts of the missionaries. Lee was exhonerated but left the mission for a trip east and died in 1845.

That much is well known. But what I never realized, until researching for the Arcadia Press book "Images of America: Salem" that Lee spent time writing letters, making speeches, and talking to lots of people about the importance of the Oregon Country (much of the Pacific Northwest) becoming part of the United States. At the time there was equal claim to the area by the U.S. and Britain. Lee's efforts tipped that balance in favor of an American territory. On February 14, 1859, Oregon became the 33rd state of the Union. I guess you just never know when your failures can turn into even bigger victories.