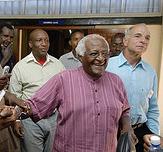 The 40th annual Collins Lecture, presented by Ecumenical Ministries of Oregon (EMO), is scheduled for the evening of Monday, May 4, 2009, at the University of Portland, Chiles Center. The theme is "The Transformative Power of Reconciliation in Society." Desmond Tutu, Archbishop Emeritus from Cape Town, South Africa, will be the featured keynote speaker.
Archbishop Tutu has led a formidable crusade in support of justice and racial conciliation in South Africa. His tireless work was recognized in 1984, when he was awarded the Nobel Peace Prize. Following a short stint as the Bishop of Johannesburg, Tutu was elected Archbishop of Cape Town in 1986—an office he held until his retirement in 1996.

In 1996, Archbishop Tutu was appointed by President Nelson Mandela to chair the Truth and Reconciliation Commission—the body set up to probe gross human rights violations during apartheid. Since the presentation of the Commission's report to the president in 1998, Tutu has been the visiting professor at several overseas universities, and he has also published several books.
The evening event will begin at 6:30 p.m. with a multicultural concert, followed by the lecture at 7:30 p.m. Tickets are $20 (plus service fee) at www.TicketMaster.com. You may also purchase tickets at the Chiles Center box office. Details about an afternoon leadership summit on reconciliation will be available on EMO's Web site at www.emoregon.org.
For more information, contact Jan Elfers at (503) 221-1054, ext. 208, or [email protected].
Monday, May 4, 2009, at 6:30 p.m. The Chiles Center, University of Portland 5000 N. Willamette Blvd., Portland, Oregon Tickets $20, available at www.TicketMaster.com or the Chiles Center box office.