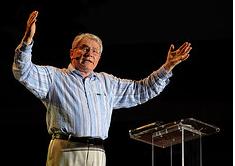 By Doris Christian,
Faith Report Writer,
Beaverton-based evangelist Luis Palau is planning a big public festival to reach Guatemala in their time of need.
As a people, many wallowing in poverty, drug and alcohol abuse amid daily violence, the citizens of Latin America are seeking answers.  Overwhelmed and emotionally downtrodden they are desperate for a better life.    When Evangelical Ministers, such a Luis Palau, hold meetings offering hope and healing through faith in Jesus Christ, the response is remarkable.

For people who respond to the Christian message "It's breathtaking to see the transformation" says Pastor Samuel Olson, head of the Las Acacias Evangelical Pentecostal Church.  "A new person assumes moral responsibility in his community and family life.  Their [religion] gives them a sense of place and a way out of their situation."
Guatemala is the most receptive and boasts the greatest number of Evangelical Christians in Latin America.  Ironically, it's also hugely affected by violent crimes due to the corruption-driven Army and drug lords.
Murder is on the increase with the Mexican drug cartel overlapping its borders. Many victims are innocent by-standers caught amid rival gang shoot-outs.  Barely 2% of all murders ever go to trial.  In 2007, 5,682 murders were reported and in 2008 there were 6,200.  Due to its ill-trained police force and often corrupt officials, the drug cartels of Guatemala and Mexico have gained a stronghold.
However, from the ashes of destruction new grassroots leaders are emerging.  Mobilized through 'The Strategy of Transformation' these Evangelical Christians aim to "help high-risk youth and families in hard places."  Providing safe houses and rehab centers, they generously give essentials such as food, clothing and shelter.
Strategy of Transformation is collectively the work of: Christian Reformed World Missions; the Center for Transforming Mission; and Liderazgo Juvenil International.  For Guatemalans, it's their beacon of hope.
With his roots deep in Latin America, Evangelist Luis Palau has spread the Gospel for over 40 years, both by daily radio broadcasts and live festivals.