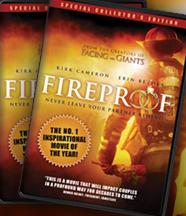 Weekend National Religion News Focus:
"Fireproof," from Samuel Goldwyn Films and Sony Pictures Home Entertainment, has won the $100,000 Epiphany Prize for "Most Inspiring Movie of 2008," sponsored by the John Templeton Foundation (www.templeton.org), a philanthropic organization dedicated to exploring life's biggest questions. The award was presented by Dr. Ted Baehr, founder of the Movieguide® family guide to movies and entertainment, at a star-studded awards event in Beverly Hills, Calif.

The $100,000 Epiphany Prize for "Most Inspiring TV Program of 2008" was presented to "The Christmas Choir," telecast by The Hallmark Channel.
Baehr also presented his prestigious "Crystal Teddy Award" for the "Best Movie for Families to "WALL-E," from Pixar/Walt Disney Pictures. "The Best Movie for Mature Audiences" was given to "Ironman," from Paramount Pictures
The "Grace Award for Most Inspiring Performance in Movies or TV in 2008" was given to Adriana Barraza for "Henry Poole is Here."
The "Faith and Freedom Award for Promoting Positive American Values in Motion Pictures" was awarded to "Expelled: No Intelligence Allowed," from Rocky Mountain Pictures. The winner for TV was a tie between "John Adams," from HBO, and "The Medal: Celebrating our Nation's Highest Honor," from 45 North Communications.
The $50,000 "Kairos Prizes" for "Spiritually Uplifting Screenplays by Beginning Screenwriters," also sponsored by the John Templeton Foundation, were awarded to:
* "A Matter of Time" by Christina D. Denton of Martinsville, Va. — $25,000
* "Touched" by Rusty Whitener of Pulaski, Va. — $15,000
* "Moody Field" by Darcy Faylor of Greenville, S.C. — $10,000
Baehr also presented his "2009 Annual Report to the Entertainment Industry." The annual report shows Hollywood what kinds of movies made the most money in 2008.
Presenters at the gala included Stephen Baldwin, Chuck Norris, Michael Clarke Duncan, Pat Boone, Brian McKnight, Orson Bean and Kate Flannery. Oren Aviv, president of production, Walt Disney Studios Motion Picture Production, presented the Kairos awards.
MOVIEGUIDE® (www.movieguide.org) is dedicated to redeeming the values of the entertainment industry by influencing industry executives and informing the public about the influence of the entertainment media.
Contact Michelle Delgado @ 714.319.1552 or [email protected] to interview Dr. Ted Baehr.