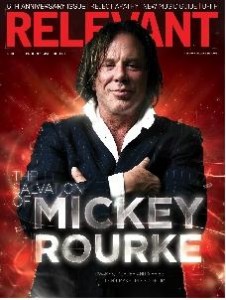 Weekend national news focus:
Mickey Rourke may have resurrected his career with his amazing performance in The Wrestler, but in an interview with RELEVANT magazine, Rourke opens up about an even more significant turnaround in his life–one that happened in a church. The interview can be found in the March/April 6th Anniversary Issue of the magazine, which arrives on newsstands March 1st. Rourke is currently nominated for Best Actor in the 2009 Academy Awards, which airs on Sunday, February 22nd.
The article covers Rourke's brutal experiences growing up, his life as a boxer and the fateful night when–on his way to kill the man who raped his girlfriend–he decided to stop by church one last time.

Rourke describes his first encounter with the priest who is now an important mentor in his life: "It was gonna be more than a punch in the mouth, and the guy deserved more, but Father Peter gave me the rap about, 'Where in the Bible does it say, "'Vengeance is mine,' says Mickey Rourke"?'" It was a question that changed Rourke's life.
To read this exclusive interview with Rourke, pick up the March/April 2009 issue of RELEVANT magazine, or go to www.relevantmagazine.com where you can read the article in its entirety on February 26, 2009.
— RELEVANT Media Group is a multimedia company whose purpose is to impact culture and show that a relationship with God is relevant and essential to a fulfilled life. RELEVANT publishes magazines, books, websites and multimedia, and is recognized as the market leader in reaching spiritually focused twentysomethings. For more information, visit www.relevantmediagroup.com.