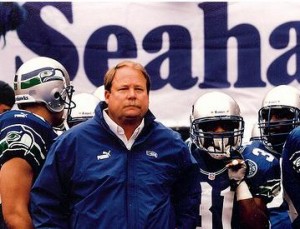 Medical Teams International
Tigard, Oregon
(Tigard, Ore.— Feb. 11, 2009) – The U.S. State Department's Bureau of Population, Refugees, and Migration (PRM) awarded $594,000 to Medical Teams International last week so it can continue its lifesaving care of Congolese refugees inside Uganda.  Medical Teams International provided medical treatment for 27,627 refugees in December with volunteer teams and staff from Uganda. The refugee population has continued to grow as Congolese families continue to flow across the border into the Nakivale settlement area.
The Seattle Seahawks, led by now-retired coach Mike Holmgren and his family, helped raise $60,000 during Holmgren's final home game in Seattle last December.
The funds raised helped Medical Teams International sustain programs until the State Department grant came through this month.  Without the money raised by the Holmgrens and The Seahawks, Medical Teams International would not have been able to provide refugees medical treatment in January.
"This is amazing," said Joe DiCarlo, international program director for Medical Teams International.  "Without the Seahawks, the Holmgrens, our volunteers and donors we could have never saved the lives of these refugees.  Now, this new grant allows us to keep saving lives for the next year."
An estimated 5.4 million people have lost their lives as a result of ongoing fighting in the region during the past 10 years – many dying from diseases left untreated as battles have raged.
Medical Teams International volunteers and staff will provide care for the most vulnerable in the refugee camps – women and children under five – who account for 60 percent of the displaced population.
Malaria, pneumonia, diarrhea and acute upper respiratory infections plague patients the most.  Most malaria patients can be cared for with medicines and specially-treated bed nets.  To find out more, go to www.medicalteams.org.
### Since 1979, Medical Teams International has shipped more than 1.2 billion in antibiotics, surgical kits and lifesaving medicines to care for 35 million people in 100 countries around the world