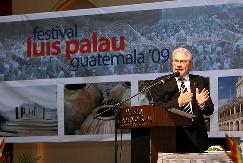 By Luis Palau,
Palau Ministries, Beaverton
GUATEMALA CITY, Guatemala, Mar. 17 /Christian Newswire/ — On the heels of a 10-day, region-wide evangelistic campaign that brought international evangelist Luis Palau face-to-face with Guatemala's top leadership, the two-day Guatemala Festival at Parque de la Democracia (March 13-14) proved just as historic — reaching hundreds of thousands of individuals with a clear Gospel presentation.
Guatemala's president, first lady, vice president, and three ministers of state all attended the festival, a first in the history of Palau festivals. President Alvaro Colom addressed the crowd from the main stage, sharing his feelings toward evangelicals in Guatemala and his appreciation toward Palau and his team.

Known as one of the most evangelical nations in the Spanish-speaking world, 3,200 Guatemalan churches invited Palau and his team to hold this historic campaign — incorporating the largest community service initiative the nation has ever seen, with more than 25 exclusive outreach events.
Included in the campaign were several private meetings with the president and his Cabinet, gatherings with the Supreme Court, military leadership, police cadets, lawyers, judges, doctors, mayors, and other top-level dignitaries. Local leadership included Dr. Luis Fernando Solares, Reverend Danilo Pérez, president of the Evangelical Alliance of Guatemala, hundreds of local pastors, and more than 25,000 trained volunteers.
In addition, the Palau Association's Season of Service model for community outreach helped mobilize tens of thousands of individuals for a month-long community service effort. Working together to meet the needs of the area, these volunteers offered free medical and dental care to more than 8,500 individuals, helped clean up local neighbourhoods and schools, and provided meals for more than 40,000 underprivileged children.
Commenting on the campaign, Palau stated, "I have had the joy of ministering in Guatemala for more than 40 years. But what distinguished this campaign from any other was the level of impact — the depth of penetration — to all levels of society. Never have we seen such access to government leaders, business professionals, and military personnel. It's a testament to the power of the Gospel."
Later this year, Palau and his team will take this holistic model for evangelism and community service to Inverness, Scotland; Kigali, Rwanda; and Little Rock, Arkansas.