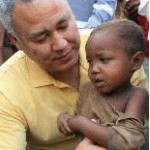 Holt Chairman, Will Dantzler
remembers his childhood as he connects with the children in Ethiopia
By Holt International
Will Dantzler with a child in KampataSomething happened to me as I hugged and kissed the children at Holt's Durame intake center in Ethiopia. Walls that had shielded me from dwelling on my beginnings began to crumble, and windows to my past began to open as I saw a reflection of myself in this generation of orphans. As most of the group began leaving the center, I found myself openly crying as I felt the loneliness of these children without a family—buried feelings that I knew once all too well were now surfacing again.

I loved seeing the children that came out to greet us at the Durame Center and I just had to hug every one of them because of the connection I felt with my little brethren. The conditions and environment were the same as I vaguely remembered from fifty years ago…the only difference was the country.
As a Korean War adoptee with no information regarding my birth, I always assumed that my biological father was an American GI. During this trip, I learned that Ethiopia, as the only independent African country, had sent soldiers to the Korean War as part of the UN coalition. This new information had implications of my biological father being Ethiopian. Quite an enlightening discovery and one that made me think even more about my unknown beginnings in life.
As we visited the remote areas, the windows to my past continued to open up as we went over terrain not unlike the war torn streets of Korea, and I saw many children running alongside our vehicles and gathering around us once we got out. I then remembered running alongside people on bicycles fifty years ago under similar conditions.
After witnessing the hardships of the mothers in rural Ethiopia, I have acknowledged my birth mother for the first time ever, recognizing now the painful process she must have gone through to let me go and somehow hope that I would get an opportunity at a better life. It is a new awareness in my circle of life, and I am a better person for it. I will always remember Ethiopia for awakening the memories of a past I thought was long forgotten, and I thank God for his revival of those memories in Ethiopia.
As we met Holt staff in both Addis Ababa and Durame, I found the Ethiopian people to be gracious, humble, very engaging and appreciative. I was also very impressed with Dr. Fikru and the entire Holt staff for how well they have continued Holt's mission with limited resources as the needs of so many orphans are great and increases daily.
So many abandoned children deserve an opportunity to have a loving family just as my generation of adoptees received. We must do our utmost to see that Ethiopian children get that same opportunity.