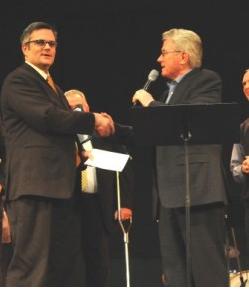 Luis Palau Association Helps to Launch Portland's 2009 Season of Service
By Luis Palau Ministries,
As the Oregon unemployment rate moves close to 10 percent, Portland's 2009 Season of Service seems to have arrived at just the right time. A collaborative effort between the city, local churches and nonprofit organizations, the Season of Service will actively address some of the area's greatest social needs.
At the official kick-off event on February 26, evangelist Luis Palau presented a $100,000 check to Portland Mayor Sam Adams – a gift to the city from Portland-area churches. It is designated for the Home Again Mentoring Project, which helps homeless families transition into stable housing, and to help fund the Portland Schools Transition Center, which encourages youth who have dropped out of school to resume their education.

"The money will absolutely go to very good use," said the mayor. He and City Commissioner Nick Fish told the audience Portland had cut $20 million from the city budget. "This $100,000 means more than you will possibly know."
At the Season of Service kick-off event, organized by the Luis Palau Association and attended by civic leaders and 350 area pastors, Adams officially declared May 1 – October 31, 2009, as the Season of Service. "And may all residents participate," he said.
The Season of Service was launched in 2008 in conjunction with Portland CityFest with Luis Palau. Civic leaders, businesses, service organizations, and churches had the goal of creating lasting connections and collaborations from the festival so as to meet social needs in the greater Portland/Vancouver area.
"In 2008 we were 'practicing,' not knowing the worst economic downturn was headed our way," said Kevin Palau, executive vice president of the Luis Palau Association. The 2008 event brought together more than 600 churches and agencies, and nearly 30,000 volunteers to work on hundreds of critical service projects. This year's projects will focus on five areas, said Rick McKinley of Imago Dei Community: homelessness; schools; health and wellness; environmental projects; and hunger and poverty.
James Martin of Mt. Olivet Baptist Church reminded the group to remember the point of Christian service. "Yes, we help the homeless and clean schools, but we also take the opportunity to share the Gospel." City Commissioner Nick Fish quoted President Barak Obama, that "service to others is the new patriotism in America." He also cited Martin Luther King Jr., that "everybody can be great because anybody can serve."