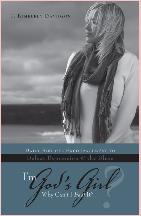 Oregon Author Kimberly Davidson releases "I'm God's Girl, Why Can't I Feel it?" to help women deal with depression.
Not too long ago a USA Today headline read: "Is Today's Economic Crisis Another Great Depression?" Soon after, Newsweek reported: "Why It's Worse Than You Think." Then CNNMoney.com stated: "Job loss: Worst in 34 years."
When we turn to the news it seems like we're living in a depressing, bad dream. No doubt we have plenty of reasons to feel depressed today. Known as reactive depression or adjustment disorders, this type of depression occurs when we experience a stressful life changing event, or endure feelings of tenseness, sadness, or overwhelming anger, or it may even result from a death: the death of a loved one, or the death of a retirement fund, or the death of a marriage, or the death of a dream.

For women's pastor Kimberly Davidson defeating depression meant embarking on a life-changing biblical journey to find encouragement, hope, wisdom, and practical help. In her new book, I'm God's Girl? Why Can't I Feel It? Daily Biblical Encouragement to Defeat Depression and the Blues, she draws from personal and ministerial experience urging women of all ages to climb out of their pit.
Another book on depression! This book is different. It is not about how depression affects you, or about anti-depressants, or how to help or live with a depressed person. It is all about spiritual growth and increasing relational closeness to Christ. In this book the reader explores in a series of daily teachings the different paths some amazing, and surprising, women took to get out of their personal dark dungeons.
God's Girl is not the description of one woman, but a portrait of different godly women, all with a direct connection to Jesus Christ. They became who they were created to be: women of hope, influence, and faith, because Jesus Christ, whom they put their trust and faith in, transformed and refined their lives.
I'm God's Girl? Why Can't I Feel It? is intended to complement, not replace, a professional's therapeutic role and is suggested for those dealing with reactive depression or adjustment disorder, which is mild to moderate depression, following a stressful event. This effective, day-by-day healing study is geared to women of all levels of Bible understanding.
Kimberly Davidson
Pastor to Women
Author/Speaker
www.olivebranchoutreach.com
www.kim-davidson.com
Hope. Healing. Love.
Romans 15:13