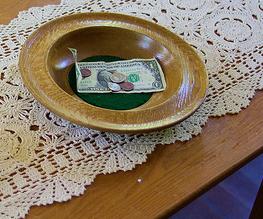 By Traci Scott,
Faith Reporter,
The trickle down effects of the current recession are being felt in virtually all organizations and walks of life, and churches are proving to be no exception.  As more church members lose jobs, fewer donations are coming in.  In turn, many churches are having to make difficult and heart-wrenching decisions—eliminating member support programs, laying off staff, closing their doors for services for short periods of times–in order to stretch their budget.

According to KATU News, Cedar Mill Bible Church in Portland has seen a major drop in its donations starting last Fall and has now had to lay off nine staff members.
First Unitarian Church in Portland has asked its staff to take two weeks off without pay sometime before the end of June and is shutting its doors for the month of July to stretch its budget.
The Catholic Church is experiencing a mixed bag of donation collections.  Although official results won't be reported until September, some parishes are noticing significantly fewer dollars in donations.  However, many parishes are thus far staying in line with projected income.
"Last year we met our goal, and we are hopeful for this year." States Bud Bunce, Director of Communications for the Archdiocese of Portland, but he also adds, "Some of us here believe that the worst is yet to come on the financial side."
Nationally, churches are beginning to see declines in donations but have not felt a severe impact yet.
A national survey released in December found church donations had started to fall in late 2008.  The survey found that one of out of every five households had decreased its giving to churches.
Among people who have decreased their donations to churches:
• 19 percent reduced their giving by as much as 20 percent
• 5 percent decreased their donations by 21 to 49 percent
• 17 percent lowered their donations by half
• 11 percent reduced donations by more than half
• 22 percent have stopped their donations all together.
The most widespread reduction in donations was among people under age 25 (47 percent). Upscale households (48 percent), Hispanics (43 percent), and non-born again Christians (40 percent).
The survey was based upon telephone interviews conducted by The Barna Group with a random sample of 1,203 adults from across the United States.
Still, many churches believe they can survive the economic downturn based on the long-held conviction that people turn to God during difficult times.