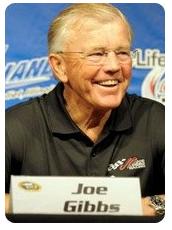 By Randy Alcorn,
Eternal Perspectives Ministries
Oregon Author of "Heaven"
Some of you prayed a while back for work I was doing for a chapter in a book with Joe Gibbs. Some information about that book has been sent to us, so I wanted to pass it on. What's below in italics is the info, then my comments follow.
What defines true success? How can you live a life of relevance? Do you want to win the most important game of your life? There are many "game plans" around; how is yours working?  As a three-time Super Bowl winning Head Coach of the Washington Redskins, owner of a three-time NASCAR championship team, and CEO of a business with 450+ employees, with primary sponsors Home Depot, FedEx, Mars Candy, Coke and Interstate Batteries, men are interested in hearing Coach Joe Gibbs speak about success and winning.

The Game Plan for Life is the fulfillment of a long-time vision of Joe. Given his unique rise to the top of two different sports, NFL Football and NASCAR racing, Coach Gibbs is often asked to speak and share his personal testimony with crowds. Men especially want to know what it takes to be "successful" and "relevant."
In the spring of '08 Coach Gibbs commissioned a national public opinion research firm to survey men. He wanted to know what areas men were most concerned about in their lives—if they could master these areas they'd live a truly successful and relevant life. He discovered there were eleven key issues that men age 20 and older struggle with: the Bible, God, creation, sin and addiction, salvation, relationships, finances, career, health, life of purpose, and heaven.
[My comments] Okay, this is Randy again. Joe drafted a team of men to specifically address each area, focusing primarily on what the Bible says about these issues. He called me first, asking if I would write about Heaven. Joe said the Heaven book had meant a lot to him, and I said I was glad to contribute a chapter. He asked me about other possible contributors. He had several in mind and I was able to suggest a few others. We spoke maybe four more times, talking about the book, publishing and reaching people for Christ with the platform God has given Joe. We prayed together and gave the project to the Lord. And He has brought it together.
The team ended up with Ravi Zacharias, Chuck Colson, Josh McDowell, Ken Boa, John Lennox, Don Meredith, Ron Blue, Os Guinness, Walt Larimore, Tony Evans, and myself. Joe got Tony Dungy to write the foreword and Jerry Jenkins to be the editor. (It's hard to say no to Joe; he's the real deal, a follower of Jesus who wants the world to know all about Him.)
Although the book won't be released until this summer, be sure to check out the Game Plan for Life website, https://www.gameplanforlife.com/, for resources on all the topics the book will cover. The website is in process, and will be fully developed by the time the book comes out, but you can see a video talk from Joe, and check out information on the subjects and writers.
www.randyalcorn.blogspot.com
https://www.epm.org/