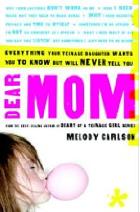 Oregon author releases Dear Mom: Everything Your Teenage Daughter Wants You to Know but Will Never Tell You,
By Melody Carson,
If there were ever an ultimate guide for moms to understand their teen daughters, Dear Mom: Everything Your Teenage Daughter Wants You to Know but Will Never Tell You, the latest book by Melody Carlson, is it. Moms, you know how it is: it's likely that since your daughter became a teen you are often left to shake your head in wonder at the stranger who now lives in your home.
Best-selling teen novelist Carlson helps moms cut through all the drama, read between the lines, and really hear what their teen daughters are saying. Dear Mom gives you a look inside their minds and gives you practical, helpful, and hopeful information for raising your teen girl.

Dear Mom will acquaint you with your daughter's thought processes and belief system, but more than that, it will help you see into her heart and soul, surprising (maybe even shocking) you with some of your teen daughter's views on everything from boys, to curfews, to what's happening at school, to friends, and faith. In the introduction, Carlson shares her own empathy for teen girls—and the moms who raise them. She encourages moms to walk a mile in their daughters' flipflops and see what can be learned about—and from—the girls they have been given to nurture and raise.
The truth is often difficult to encounter, and Dear Mom is no exception. The chapters are titled as thoughts teen girls often have: I Already Have Friends—I Need a Mother I'm Not as Confident as Maybe I Appear to Be I Need Rules, but They Need to Make Some Sense Does the truth hurt? Sometimes. But, if you feel like you have come to the end of your rope, if you are so frustrated that you don't know what to do, and if you are tired of fighting your daughter, Dear Mom will enable you to see the world from her perspective and understand that she still desperately needs you, even if she doesn't act like it.
### – Melody Carlson is the award-winning author of more than one hundred books for adults, children, and teens, with sales totaling more than three million copies. Beloved for her DIARY OF A TEENAGE GIRL and NOTES FROM A SPINNING PLANET series, she's also the author of the women's novels, Finding Alice, Crystal Lies, and A Mile in My Flip-Flops. A mother of two grown sons, Carlson lives in central Oregon with her husband, where she is a full-time writer, avid gardener, biker, skier, and hiker. You can find out more about her at www.melodycarlson.com.