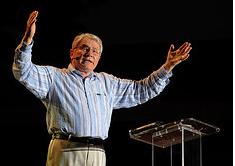 Luis Palau Ministries,
Beaverton,
(Inverness, Scotland) Internationally-known speaker Luis Palau has formally accepted an invitation from more than 50 congregations and ministries to host a region-wide festival celebration this June. Taking place in cities and villages throughout the Highlands—from Inverness to Thurso—Highland Festival with Luis Palau includes a series of free, family-friendly events for all ages. Palau and his team—including speakers, Christian athletes, and musicians—will join with churches and parishes from all denominations as they share a positive message of faith and hope in today's world.

In the weeks leading up to the culminating celebration at Bught Park in Inverness on 19 & 20 June, mini-festivals will take place in a number of the smaller communities across the Highlands (including Thurso, Buckie, and others). In addition, during the week of the festival in Inverness, Palau will host a series of special events at Eden Court, ranging from classical Scottish concerts to gatherings for businessmen.
The executive committee, chaired by Lord James MacKay of Clashfern and made up of ministers, businessmen and community leaders, has been working hard on the many details necessary to prepare for this community-wide festival and series of events.
In an effort to bless the community through Highland Festival, a massive area-wide food drive will be conducted to help meet the needs of the community and replenish area food banks.