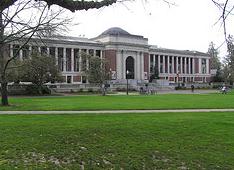 By Naomi Inman
Faith Writer
A standing room only crowd filled the Oregon State University Withycombe Auditorium in March for a stirring academic debate on the topic "Does God Exist?" The attendance spilled well beyond the auditorium's 300 seat capacity, with people standing in the back and sitting on the stairs for the third debate this year hosted by the Socratic Club.
Mr. Michael Gurney and Dr. Martin Erwig engaged in a lively and civil empirical debate about the circumstances of the material universe, arguing whether or not they pointed to a supreme Creator.

The audience and debaters maintained a mood of civility and respect, but they also were willing to ask tough questions and press home points.
"I enjoyed the debate because both speakers developed substantial cases that relied on a mixed set of ideas, a variety of scholarly sources, and a willingness to engage the opposing side in a meaningful and ultimately fruitful fashion," comments James Roberts, a graduate student attending the debate.
Both speakers delivered powerful arguments in a spirited exchange. Gurney maintained that the ordered and systematic nature of the universe points to a creator, one who precedes creation and is superior to it in every way. Dr. Erwig maintained that scientific empiricism is the best means for weighing the possibility of a creator, and there is insufficient direct evidence pointing to a supreme being.
The audience even became involved, applauding excellent points and asking brilliant questions about the nature of God and what kind of evidence would be necessary to prove His existence.  "I was standing in the back and witnessed audience members discussing the debate and reacting to comments by speakers while it was going on. In other words, I would submit they were highly engaged," recalls Roberts.  Many people continued the debate in the foyer well fter the event.
For more information see https://oregonstate.edu/groups/socratic .