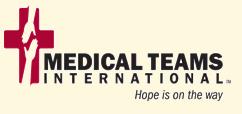 Medical Teams International,
Portland, Ore., April 27, 2009 — Medical Teams International has rushed eight emergency health kits, valued at $3.3 million, to care for 80,000 people displaced by fighting. The Office of Foreign Disaster Assistance (OFDA) funded the kits shipment to Sri Lanka. While this civil war has troubled Sri Lanka for more than 25 years, observers expect fighting to end in the next weeks or months.  Government troops have pinned down rebels to a five-mile square radius.  Meanwhile 50-70,000 civilians are trapped in the war zone.  "Those are the people who need our care immediately," says Joe DiCarlo, director of international programs for Medical Teams International.

Portland's 30-year-old relief agency also has sent in three surgical kits to help local doctors perform emergency surgeries.  "Our staff is joining a Ministry of Health convoy tomorrow to help get supplies to those who need our help the most," Di Carlo added.
"They are taking in beds, water and other emergency supplies. We also have been asked to consider providing manpower – doctors and other trained health workers – to help with this growing humanitarian crisis," Di Carlo said, after talking with Medical Teams International staff on the field.
"We have been requested — and have surgeons from the States who worked in Sri Lanka during the tsunami — who are willing to go if their services are needed.  We also just helped open the Symbulanduwa Hospital in southeastern Sri Lanka that will help meet the needs of thousands of these people who are trying to escape the fighting.," DiCarlo concluded.
MEDIA ADVISORY: If you would like to interview Joe DiCarlo or our Sri Lankan EMS Manager, Donnie Woodyard, please contact Marlene Minor at the number listed above.

If you would like to help Sri Lankan families caught in the cross-fire of war, please send your gifts today to Medical Teams International at P.O. Box 10, Portland, Ore. 97207-0010, marked for Sri Lanka War Relief.  Or go online to make a contribution at www.medicalteams.org.