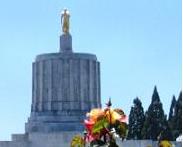 By John Fortmeyer
Christian News Northwest
Become a subscriber
SALEM — It was, admittedly, a visit to the Oregon State Capitol by a special interest group.  But the primary interest of about 300 people who swarmed the Capitol for the second-ever Pastors and Christian Leaders Day on Tuesday, April 14 was simply toward having better communities, a better state and a good working relationship between churches and Oregon's leaders.
"As churches and pastors, we want to be involved in every aspect of life, and this is one of them," said Tim Nashif, founding director of the Oregon Family Council, as he opened the day's activities in a preliminary gathering at the nearby Salem Conference Center.
After a briefing and a lunch, those attending made their way to the Capitol a few blocks away for scheduled appointments with state senators and representatives from their home areas.
Now in its 30th year, Oregon Family Council encourages the state's Christian community to extend its influence through the elections and legislative process. Two years ago it held the first Pastors Day event out of concern for protecting religious freedom in light of homosexual rights laws newly passed by the Legislature.
Frank Damazio, pastor of City Bible Church in Portland and one of the clergy advising the council, expressed appreciation to the assembled pastors this year for their churches' ongoing involvement. He said their interest and action is more needed than ever.
"If there was ever a day for churches to make a difference in lives … a time for churches to be involved in our culture, and with pressures facing every family, it is right now," he said.
Mike White, also a founding director for the council, said today's world desperately needs the influence of Christians.
"When the final chapter is written, we're going to find out that everything good in the world is because of Jesus Christ and His people," he said.
As a demonstration of that, the council that day released results of a survey that showed the wide range of community programs offered by Oregon churches, in such areas as marriage and family, service to the needy, recovery ministries, social justice issues and life skills development.
"Oregon churches are good neighbors," said Nashif. "It's about time that people and government start realizing how much the church does."
Two key state government leaders responded by personally addressing the pastors' luncheon. Dave Hunt,a Democrat and speaker of the state House of Representatives, and Bruce Hanna, House Republican leader, warmly welcomed the visitors.
"Having Christian leadership come to Salem maybe never has been so important," said Hanna, who offered his own testimony of faith.
By John Fortmeyer
Christian News Northwest
Become a subscriber