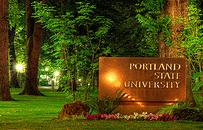 By Traci Scott, Faith Reporter
Since the Gaza incursion in late December, PSU students, faculty, staff and administrators have reported heightened tension on campus between student groups representing Palestinians on one side and Israel on the other.  In response, Greater Portland Hillel, a foundation supporting Jewish campus life, recently invited Ishmael Khaldi, the San Francisco-based Israeli deputy counsel general for the Pacific Northwest Region, to the PSU campus for an evening talk, entitled "One Man's Story of Israel's Culture, Society and Politics from the Perspective of a Bedouin Minority Living in the Jewish State."

The goal of the program, as well as other upcoming campus speakers and programs, is to provide a vehicle for open dialogue among cooler heads, according to Rachel Hall, advisor for Greater Portland Hillel.
As the first Bedouin to be appointed an Israeli diplomat, Khaldi has a unique perspective of being a non-Jewish minority citizen in Israel. A shepherd, Muslim and Arab, he was raised in the village of Khawalid in the Zevulun Valley of Israel, and is also an Israeli citizen. Before joining the Israeli Foreign Service, Khaldi served in the Israeli Defense Force and Israeli Police Force. He holds a masters degree in political science from Tel Aviv University.
"We all agree there's a conflict," Khaldi told the Jewish Review prior to his third visit to PSU, "and (being on) campus is a way to dialogue and find—or try to find—solutions."
Khaldi has also spoken at Oregon State University, Willamette University and is scheduled to speak at Southern Oregon University on May 5.
"It's a great opportunity for the students," said Dan Rubenson, Chair of the Department of Social Sciences, Policy, and Culture at Southern Oregon University. "There are not many people with backgrounds like Ismail Khaldi, so he brings a truly unique perspective."
In an interview with the online Zionism & Israel, Khaldi said that he doesn't understand why he needs to explain the origin of his love for Israel and Israelis.
"I grew up among Israeli Jews, mostly members of Kibbutz Kfar Hamaccabi. And they never made me feel different. I always felt equal. This is the Jewish state, but I am part of the country, and my identity is Israeli, not Palestinian."
And it appears that Khaldi's diplomatic journey will continue to evolve.  It was recently announced that Israeli Foreign Minister Avigdor Lieberman has appointed Khaldi as his new diplomat Mideast advisor on regional issues.  His appointment is said to stem from Lieberman's' desire to appoint someone familiar with the complexities of the region who is also fluent in Arabic.