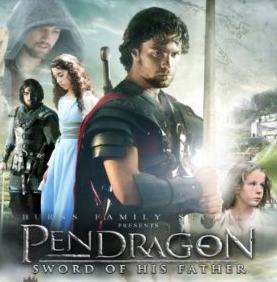 Entertainment News,
ST. LOUIS, Mo., May 12 /Christian Newswire/ — Burns Family Studios has launched its first motion picture in DVD, an epic action feature set in ancient England, called "Pendragon: Sword of His Father."  The two-hour motion picture, distributed through retail stores, has been supported by Family Christian Stores, the nation's largest Christian bookstore chain, and TBN, the world's largest Christian television network. TBN will broadcast the film later this year.

"Pendragon's" producers sought to inspire today's Christian movie viewer with a message of faith, courage and obedience to one's calling. The motion picture has been awarded four "Doves" by the Dove Family Foundation. It also won "Best Family Picture" for 2009 and two other awards at the Bare Bones Film Festival.
"'Pendragon' is a very impressive attempt at a historical epic … very entertaining, inspiring and sometimes surprising Christian movie," said Dr. Ted Baehr of Movieguide, the family guide to movies and entertainment.
Tim Eldred, executive director for Christian Endeavor, the nation's oldest youth ministry organization, said, "Pendragon captures the cry of a generation ready to step forward and transform their world. This film serves as an example of what happens when we believe in God's call on young lives."
Like the producers of the movie "Fireproof," whose production team is based in a small Georgia church, Burns Family Studios and their first project, "Pendragon," started as the faithful vision of two home-schooling families — parents, aunts, uncles, young people and volunteers from their churches — with a big idea.
"Our family seeks to inspire Christians to embrace God's purpose for their lives — to take up the world-changing task that God has for them. To that end, we're leveraging one of the most heart-penetrating forces of our time – film," said director Chad Burns.
"Once it was said that 'the pen was mightier than the sword.' Today, feature films are shaping cultural norms and ways of thinking. It is our vision that through "Pendragon" and our other pictures, people will be inspired to live bold, vibrant lives for Jesus Christ," said Burns.
Aaron Burns, Chad Burn's cousin, who plays the lead role of Artos, said, "As we saw 'Pendragon' through to completion, we watched God provide in amazing ways."
Aaron Burn's father, Andy, plays British ruler Ambrosius, while he also tends to the everyday Burns Family Studio financial concerns. Aaron's mother, Tracy, managed the hundreds of extras that played in the movie.
Although set in a distant time and a faraway place, "Pendragon" is more than an exciting adventure flick. It tells a story that is essential to Christians and families today. Through "Pendragon's" epic battles and dramatic intrigue shines the story of a young man whose life was changed when he submitted himself to God's plan.
Watch the exciting movie trailer at www.pendragonmovie.com.
Please contact Michelle Delgado @ 714.319.1552 or [email protected] to interview Chad Burns, Aaron Burns, Andy Burns or Tracy Burns.