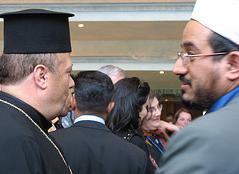 BUENA PARK, Calif., May 6 /Christian Newswire/ — First Southern Baptist Church in Buena Park, CA will host the first Christian/Muslim Dialogue event. The event is scheduled for 6 PM Pacific time, Sunday May 24th and is open to the public. Reverend Wiley Drake of FSBC, will share the podium with prominent Christian and Muslim leaders.  Topics up for dialoguing are; "What in your religion would justify and sanction a nation going to war or retaliating against an attack?" "What is the proper role for women within your religion?" and "How can we be assured of justification before God?" Much of the dialogue will center around Gardner's 2006 letter to the Muslim leadership found at www.cmdialogue.com.

The group hopes to establish a rapport between Christian and Muslim leaders and clerics. A main goal is to see the Muslim leadership at Mecca declare a fatwa against school literature promoting terrorist acts and against terrorism in general.
Slated to speak are Imam Muhammad Siddeeq and Reverend Howie Gardner.
Imam Muhammad Siddeeq is a graduate of the University of Pennsylvania and has done graduate studies at Howard University, the University of Indiana, Butler University, Union College and Martin University. He has served as professor of Biology at the Hebrew Academy of Washington D. C., as Director of Education at Muhammad University of Islam in New York City and at Florida State University and Florida A&M. He is a former assistant to Minister Louis Farrakhan in the Nation of Islam and is the successor to Imam Wallace Deen Muhammad; founder of the Islamic Society of North America and recognized as one of the 100 most influential people in the world by Ebony Magazine. He and his wife Fareedah have been married for 44 years and have 8 daughters and 7 sons.
Rev. Howie Gardner is pastor of Bel Air Assembly of God in Bel Air, Maryland. He is a graduate of Oral Roberts University and has done graduate studies at, Trinity Evangelical Divinity School, United Theological Seminary and ORU's Graduate School of Theology. He is author of two books: "The Church & Terri Schiavo" and "Oral Exam" (originally titled "Oral Roberts in the Eyes of One of His Students"). He and his wife Angie have three children live in Bel Air, MD.
Rev. Gardner will be available for interviews.