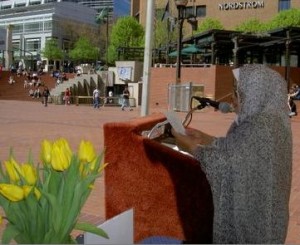 By Traci Scott, Faith Reporter
Holocaust Remembrance Day was commemorated in Pioneer Courthouse Square on April 21 with the reading of about 7,000 names of victims of the Holocaust.  The event was entitled "Unto Every Person There is a Name".  Prayers were said and candles were lit as the names were read in order to remember the horrors of the past and to reflect on present day atrocities.  Readers included Portland Mayor Sam Adams, Beaverton Mayor Denny Doyle, Secretary of State Kate Brown, Portland City Commissioner Dan Saltzman and Portland Police Chief Rosie Sizer. (Photo shows Salma Ahmad of the Islamic Society of Greater Portland.  Provided by  Oregon Area Jewish Committee).
Holocaust Remembrance Day is a solemn day for Jews as they stop to remember that over 6 million Jews were killed during the Holocaust simply for being Jewish.  It was sponsored by the Oregon Area Jewish Committee and the Oregon Holocaust Resource Center.
Along with the reading of the names, ages were also provided in order to help people identify with the victims on a more personal level and to show that many of the victims were children. Heroes of the resistance movement were also recognized. The reading drove home the tragedy of the Holocaust and that although the victims are gone, they are not forgotten.
There are around 150 to 200 Holocaust survivors living in the Portland area, but none turned up for the event.  Oregon also honors Holocaust victims through a Holocaust Memorial in Washington Park in Portland and through the Oregon Holocaust Resource Center which is part of Pacific University in Forest Grove.