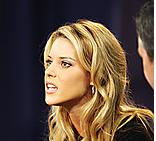 By Beaver Believer, Portland
Miss California, Carrie Prejean, was thrust into the national spotlight after answering a pageant question from a judge about same-sex marriage.   She said she supports traditional marriage between a man and a woman.  In true dramatic fashion she came in second place heightening thoughts of persecution.  A small altercation broke out amongst the audience as well as heated words by all sorts of commentators within hours of the event.
An Oregon pastor told his congregation that he had a hard time processing her family message with the image of her walking out on stage in a skimpy bathing suit.  When you are wearing so little are people really paying attention?   Then surfaced were the lingerie photos of her as a 17-year old. Carrie Prejean said "I am a Christian, and I am a model. Models pose for pictures, including lingerie and swimwear photos."  Those (topless) lingerie photos were the most borderline pornographic clothing line pictures I have ever seen.   Then this week on Focus on the Family, it was said that she now regrets the photo shoot.

Adding to the mix is the terrible backlash Carrie has received.  The judge who asked the original question ran a YouTube video calling her the famous B-word.   MSNBC commentator, Keith Olbermann, compared her to a Nazi death camp operator.  People are calling for her to surrender her state title.  Such acrimonous attacks invite people on both side of the issue to rush to her defense of the right to express one's opinion.
What now?  Interestingly, the Dove Awards (Gospel music) quickly put Carrie Prejean on stage for their recent ceremony.  This means that a red carpet is being laid out for her to be a spiritual spokeswoman for political issues.  My honest and unresolved question is that is this a good idea?   Some in the Christian Community have chased after music stars and actors who espoused good things but were later burned when their lifestyle ruined their message.   I pray that this is not the case.
There are a lot of different opinions on this highly charged issue, and I would love to hear your thoughts  — please be respectful.