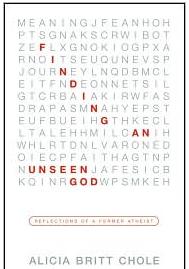 "Truth is dead.  God never lived.  Life is filled with pain.  Death is the end of life. "
For Alicia Chole, these statements formed the basis of her worldview. To her, God was a myth people made up to self-medicate in response to their bleak lives and the rampant evil in the world. "I sincerely believed that there was no God," she says in the first chapter of her new book, "Finding an Unseen God. As a young Atheist, I simply considered myself a realist who preferred unanswered questions over fairy tales." "Then one day, without warning and without invitation, my Atheistic worldview was shattered like fine glassware on a concrete floor…. It was as though something you were absolutely certain existed only as the stuff and fluff of fairy tales knocked loud and clear and then stood there offending all your senses on the doorstep."

Vulnerable and thought-provoking, "Finding an Unseen God" opens a window into Chole's surprising spiritual journey. Yet it's more than just her story; Chole isn't afraid to ask the tough questions about faith and God and explore the mystery of belief. Through short conversational chapters, she engages both the heart and mind, and she invites readers to consider what they believe and do not believe while she paints a vivid portrait of a God who relentlessly pursues even those who deny him.
"Chole gives a fresh perspective on what goes on in the mind of an atheist. Any Christian who has ever been challenged to defend their beliefs will appreciate her insight to both sides of the argument and, through her story, witness the power of an unseen God at work." — Christian Retailing
"Alicia's heartfelt and thoughtful words penetrate the soul and make you feel and think in new ways." — Mark Batterson, author of In a Pit with a Lion on a Snowy Day
About the Author:
Alicia Britt Chole speaks nationally and internationally to a wide variety of people. She's been mentoring university students and the next generation of leaders for more than 20 years. She's the author of several books and audio and video resources, including "Anonymous: Jesus' Hidden Years and Yours." Alicia lives with her family in a home devoted to reflection and writing in the Ozarks of Missouri. Visit her Web site at truthportraits.com.
"Finding An Unseen God: Reflections of a Former Atheist"
by Alicia Britt Chole
ISBN: 978-0-7642-0602-3
Trade Paper; $13.99; 176 pp.
Release Date: May 2009