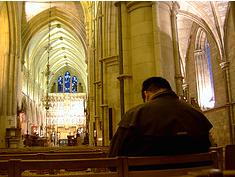 Faith Report,
According to the 2008 American Religious Identification Survey that was released earlier this year, Vermont has overtaken Oregon as the country's most "unchurched" state, with 34 percent  reporting no religious affiliation.  Oregon's figure is 24 percent, up from 21 percent in 2001, currently placing it fifth behind Vermont, New Hampshire, Maine and Wyoming.  Nationally, 15 percent of the population is considered "unchurched".

According to Wikipedia, the term "unchurched" was first applied to the West Coast back in 1985 by Rodney Stark and William Sims Bainbridge, who found that Oregon, Washington and California had the United States' lowest church membership rates in 1971 and that there was virtually no change in this pattern between 1971 and 1980.
In 2000, the six U.S. states reported to have the lowest rate of religious adherence were Oregon, Washington, Alaska, Nevada, Maine and West Virginia.  However, according to the survey, the Northern New England region has now surged ahead of the Northwest region as the most "unchurched" area of the country.
Previously, several theories have been suggested to explain the Northwest's reputation as one of the more "unchurched" regions in an otherwise religious nation.. An emphasis on independence, less of a connection to religious institutions and the magnificent landscape have all been put forward.
However, the term "unchurched" doesn't necessarily mean that respondents aren't interested in spirituality.  Both Native American and Eastern traditions, as well as New Age spirituality and a reverence for nature all come in to play.
"Established churches have been in decline, and evangelical Protestantism has been growing.  Over time and generations, the mainline and Catholic churches are failing to hang on to young people, and some are being scooped up by mega-churches designed to appeal to the younger generation," said Mark A. Shibley, a sociology professor at Southern Oregon University in Ashland, in an interview with The Oregonian.
"New religious movements and spiritualities, neo-paganism, New Age folks have all experimented, explored and are proliferating here in the Northwest."
What is the explanation for northern New England's "unchurched" surge?  According to Sibley, the northern section of New England—Vermont, New Hampshire and Maine—"has always has always been more frontier-like, the population less diffused, the country more rugged, less urban," which all contribute to its adversity toward religious adherence.