Pope Benedict XVI Completes Historic Holy Land Pilgrimage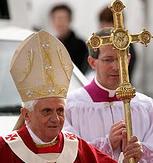 NEW YORK, May 29 /Christian Newswire/ — On May 15, Pope Benedict XVI completed his first papal pilgrimage to the Holy Land, visiting and praying at holy sites and making a concerted effort to build bridges of peace between Judaism and Christianity."I come, like so many others before me, to pray at the holy places, to pray especially for peace — peace here in the Holy Land, and peace throughout the world," Pope Benedict said upon arriving on May 11 for his five-day pilgrimage.

During a year that is set to break past records for Christian pilgrims visiting Israel, Pope Benedict's journey marked the first papal visit to the Holy Land since Pope John Paul II made pilgrimage in 2000.
"The people of Israel count it a great honor and privilege to have welcomed Pope Benedict as our esteemed guest," said Arie Sommer, Israel's Tourism Commissioner for North and South America. "We appreciate the solidarity demonstrated by His Holiness as he visited the land and people of Israel, and encouraged other Christians around the world to do the same."
The papal visit began at Ben-Gurion International Airport outside Tel Aviv, where Pope Benedict was met by Israeli President Shimon Peres, and participated in a welcome ceremony. Peres said at the event, "I see your visit here, to the Holy Land, as an important spiritual mission of the highest order; a mission of peace."
Pope Benedict echoed this sentiment: "I am certain that this will be a continuation of the dialogue between Judaism and Christianity in the spirit of the Prophets." The pope took further steps to building bridges of peace through his personal meeting with Peres and a subsequent meeting in Nazareth with Israeli Prime Minister Benjamin Netanyahu.
Later on the day of his arrival, His Holiness was deeply moved during his visit to the Yad Vashem Holocaust memorial, which he called "one of the most solemn moments of my stay in Israel."
Additionally, the papal visit included the celebration of mass in the Kidron Valley, Bethlehem, and Nazareth, as well as times of reflection and prayer at holy sites, including the Western Wall, Mount Zion, Gethsemane, and the Old City of Jerusalem.
While in Jerusalem, Pope Benedict also took time to personally meet with Muhammad Ahmad Husayn, the Grand Mufti of Jerusalem, at the Temple Mount, in addition to Israel's chief rabbis.
Concluding his pilgrimage, the Pontiff again reiterated the need to continually work toward peace among religious faiths: "We are nourished from the same spiritual roots. We meet as brothers, brothers who at times in our history have had a tense relationship, but now are firmly committed to building bridges of lasting friendship."