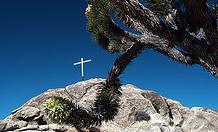 By Traci Scott, Faith Reporter
A cross that was first erected in 1934 in the Mojave Desert Preserve by a group of veterans to commemorate fallen veterans is now being challenged by the American Civil Liberties Union (ACLU).  Veterans say the white cross is meant to represent the Fallen Soldier Battle Cross, which consists of a rifle and bayonet that are a symbol intended to replicate the cross on the battlefield to honor those who died in battle.  In 2002, Congress designated the cross as a "national memorial commemorating United States participation in World War I and honoring American veterans of that war."

Veterans say this war memorial and thousands of others like it across the country are under attack by the ACLU.  But the ACLU contends that the cross is offensive to Jewish, Buddhist, Muslim and other non-Christian veterans.
The ACLU filed the suit in 2001 on behalf of Frank Buono, a former National Park Service employee who lives in Oregon.   In 2004, the 9th Circuit Court of Appeals ruled that the memorial violated the First Amendment clause forbidding an establishment of religion and ordered its removal.  The cross currently is hidden from view via a wooden encasement.
The Supreme Court will make a final determination as to whether the seven foot cross will remain standing during its next session, which begins in October.
The ACLU would like to choose a symbol that reflects everyone and is not as divisive as the cross
"For us to choose the principal symbol of one religion that says Jesus is the Son of God and He is divine and say that is an appropriate way to reflect the sacrifice of people who don't believe that … is excluding by its very nature," Peter Eliasberg, counsel for the ACLU Foundation of Southern California, said in a recent interview with The Washington Times.
But veterans groups contend that such a decision would have ramifications not just on war memorials, but possibly on roadside memorials for fatal roadside victims as well.