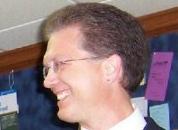 By Daniel Burke
Religion News Service
(RNS) The election of an Episcopal bishop in Michigan who has practiced Buddhist meditation and changed traditional church prayers appears headed for defeat, according to an unofficial tally kept by a newspaper reporter.The Rev. Kevin Thew Forrester was elected bishop of the sparsely populated Diocese of Northern Michigan in February. Under Episcopal Church rules, a majority of bishops and 111 regional standing committees must vote to ratify his election before it is valid.

On Friday (June 5), the Arkansas Democrat-Gazette, which has kept an unofficial running tally of the voting, reported that 56 standing committees—a majority—have voted to withhold their "consents."
The official tally will not be known until at least late July, when all of the ballots are due.
Linda Piper, president of the Diocese of Northern Michigan's standing committee, which keeps the official tally, would not confirm the report. But, she said, "Do I think this is probably the way it's going to go? Unfortunately, I would not be surprised."
Piper acknowledged it would be an "uphill climb," for Thew Forrester to get the consents he needs.
Thew Forrester said, "My understanding is that the standing committees and diocesan bishops have 120 days to give consent, which means the process continues to unfold until the third week of July. Along with the Diocese of Northern Michigan, I recognize the integrity and wisdom of the consent process and wait until its conclusion."
Thew Forrester is rector at St. Paul's Episcopal Church in Marquette, Mich. Soon after his election by the diocese, conservative church bloggers from across the country discovered that he practices Zen meditation and received "lay ordination" from a Buddhist community.
Deeper digging found that he has at times eschewed the Book of Common Prayer—the anchor of Anglican doctrine and liturgy—and written his own rites for baptisms. A number of Episcopal bishops have judged him insufficiently orthodox to join their ranks.